When it comes to personal finance the single topic I think most about is wealth creation. Frankly, it used to be budgeting, then it was investing, and then I realized I was missing the bigger picture.
Any activity in personal finance is ultimately about wealth creation. Wealth in any form can then be optimized to achieve your goals. Whether these goals are to buy your freedom or buy that mansion you've been dreaming of, its hard to do it without wealth.
While it'd be great for that wealth to be in assets or forms that directly and easily achieve your goals, it isn't a requirement.
I ran across a perfectly worded tweet that showed exactly what I was talking about. The tweet read:
Isn't it perfect? It allows for a quick 1-2-3 recipe for wealth creation. Almost (but not quite) as easy as shake & bake:
Make your labor as valuable as possible (i.e increase your income)
Hold onto as much of that labor in the form of income as possible (i.e budget & save)
Buy the right assets
Now each of these can be broken down even further.
Make your labor as valuable as possible
In its simplest form, this could (and maybe should) be reworded as, make as much money as you can. Of course, there are other variables that need to be taken into consideration (happiness, stress, etc). For now, let's keep it as simple as possible.
Make as much as you can. Don't make it any more difficult. When you do this you'll probably feel a lot like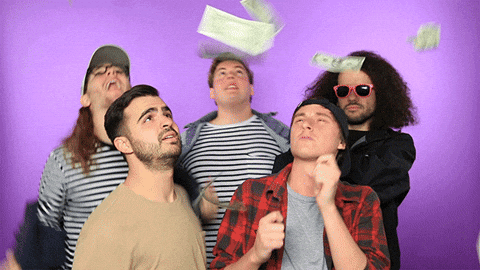 Hold onto as much of the income as you can
In this stage of the game everyone, and I mean everyone, wants to jump straight to investing. If they did this it's essentially skipping this step.
Why? Because it's boring.
Because of that, I'd argue the most important piece of this entire puzzle is budgeting & saving.
The Wealth Flywheel
I may be oversimplifying but I view anything that compounds (like wealth) as a flywheel.
At first, the flywheel (aka building wealth) feels like its going to take forever. You get that year-end bonus of $8,000 when you're 26, put it in the bank and question whether you are ever going to be a millionaire. You think, if the market returns 10% next year I'm only going to make $800 off of that money.
What you don't realize is that, if enough of those bonuses (and hopefully some monthly savings as well) are stacked together over a decade you may have $100,000 or more. Then when the market returns 10% you make $10,000. In the words Charlie Munger
The first $100,000 is a bitch, but you gotta do it. I don't care what you have to do – if it means walking everywhere and not eating anything that wasn't purchased with a coupon, find a way to get your hands on $100,000. After that, you can ease off the gas a little bit.

Charlie Munger
Eventually you'll get to the point where your wealth is compounding at ever-increasing rates. Primarily, this is because the flywheel of wealth is spinning. Budgeting and saving don't really do a whole lot for you then.
What a lot of people who have their flywheel already spinning forget is what it took to make it around the first time. It took a lot of work and more time than they'd probably admit. I am firmly in the camp that optimizing budgeting and saving (especially early on) can get that flywheel started sooner and faster.
Again, no one really talks about it all that much but it's a vital part of the process. Hold onto as much as you possibly can when you are young. When a house, 2 cars, and a family hit life doesn't get any cheaper.
Buying assets with accumulated capital
This is where things start to get fun. Fortunately, this is the stage that I'm just entering. I haven't been here long but I am constantly evaluating assets to see what I should do and how much I should allocate towards them.
The overarching idea is fairly straightforward. It's as simple as buying things that either produce cash or will go up in value over time. First, though, I think it'd be beneficial to define what an asset is.
From this I classify an asset as something that is useful or valuable. From the original tweet there are two adjectives in front of asset that I want to point out. Those adjectives were scarce and productive.
A scarce asset is something that has more demand than supply. Overtime, the value of that asset would, in theory, go up because more people want it.
A productive asset is one that produces cash.
If you buy either of these you have taken your first step towards wealth creation.
What assets can I actually buy?
Now, how the heck can someone buy an asset? For someone starting out its not that hard. Your primary tool will be the stock market.
There are several different ways to go about this. The easiest approach would be to invest in Vanguard Index Funds. If this interests you, more details can be found here. That link discusses the risks involved, why you should consider the stock market and how to go about it.
Before you start thinking the stock market isn't for you, I'd do your homework. Outside of the stock market, there aren't too many great alternatives that won't take up a good amount of your time.
Whatever route you choose, I wish you the best of luck. Creating wealth isn't easy. It absolutely involves several different skill sets. Fortunately, there are a lot of people who have done it before you so there aren't any wheels you need to recreate.