An MBA is a one of the biggest investments in both time and money that an ambitious professionals and engineers will make. Its so hard to know if it will pay off. I remember asking myself the question "is an MBA worth it?" countless times.
I was in your shoes. I gave myself a seemingly small window of time to make the decision and I was afraid the incorrect decision would have long term effects (either positive or negative) on my entire career.
The problem is that it isn't clear what goes into the decision. The decision we are talking about could mean up to a $100,000 commitment and a few thousand hours of work. This is a huge decision and one that I'm sure you think about a lot.
There are so many qualitative and quantitative portions to a decision like this. In this post I'll walk you through some of the variables to consider and then give you access to a google sheet I made that will help illustrate some of the key financial variables.
I hope this post in its entirety can help you make you answer the question "is an MBA worth it?".
If you're more like this….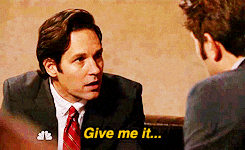 ….and just want the free google sheet then you can just head here.
Don't forget to come back and take a look at the rest the post!
Why do you want to get an MBA?
Before we dive into too many details I'd love to know your answer to this question:
I decided I wanted to get an MBA because it would be the best balance with my engineering degree. Better yet it would also signal to my current and future employers the direction I wanted my career to take.
At the time of my decision I was working for a very small business as a project engineer. I knew going in an MBA wasn't going to catapult me to the top of the organization. However, I did think it would set me apart from my very technically focused peers.
I also knew I eventually wanted to have a more business and entrepreneurial bent to my career and an MBA would help with that.
The thought process is above is why I got an MBA.
This is an important question you need to answer for yourself.
Why do you want to get an MBA?
Maybe you are working for a large organization and you see all the individuals further along on your career track all have earned an MBA.
Maybe you work for a family business that you will one day need to take the helm of. Growing up with the business you know it inside and out, but an MBA would add some more tools to your tool belt.
Maybe you have aspirations to eventually start your own company and an MBA will help you down that path.
This is a very personal question to answer. Whatever the answer is you need to believe it to your core. When it comes time to invest tens of thousands of dollars and hundreds of hours of work this answer will be one of the key things that get you through.
The costs of an MBA
When Warren lectures at business schools, he says, "I could improve your ultimate financial welfare by giving you a ticket with only 20 slots in it so that you had 20 punches—representing all the investments that you got to make in a lifetime. And once you'd punched through the card, you couldn't make any more investments at all."
He says, "Under those rules, you'd really think carefully about what you did and you'd be forced to load up on what you'd really thought about. So you'd do so much better." – Warren Buffet
While Warren is talking about actual investments I tend to think of my life as a 20 slot punch card. What am I willing to dive into for 2-3 years that would take away one of my punches?
The collective financial, time and opportunity cost investment you will make in an MBA is significant enough that it should certainly make your 20 slot punch card of life. I viewed it as such and I think it was the right lens to evaluate an opportunity like earning an MBA.
With that frame of mind let's look at the three major investments you'll be making to make this the costs are worth a punch on your punch card of life.
Financial
The financial investment required to earn an MBA is the first one everyone thinks of, and rightfully so. I'm a believer of investing in yourself but an MBA carries a big price tag.Regardless of where you go to school you are looking at a minimum of $25k and a maximum well north of $100k.
When I was in your shoes this how I felt.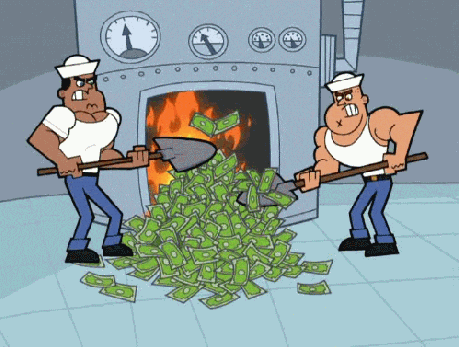 Fortunately its a wide range. The school I elected to attend cost right around $30k. On the lower end for sure but thats still a lot of money.
Time
The time involved in getting an MBA is like adding a part time job to your life. Not only was I doing that but I was also going to become a dad just a few months before my MBA start date.
Talk about throwing a lot on your plate!
Going to an online MBA program cut out a lot of time others may experience. I didn't have to drive to school, walk to class, wait for class to start, etc. The time flexibility also allowed me to do it on my time.
I didn't have to go to school every other weekend like some MBA programs and didn't have to go every week night. Regardless of what type of MBA program you choose there is certainly going to be time spent studying, learning and interacting with your professors and classmates.
I'd say I spent roughly 8 hours a week on my MBA. There were certainly ebbs and flows to that but it settled right around 8 hours per week. Given that my program took roughly 2.5 years it means I spent right around 1,000 hours getting my MBA.
Opportunity Cost
Opportunity cost is one that a lot of people don't take into consideration when doing, well anything really.
If you aren't familiar with the concept, opportunity cost is essentially the value of what else you would have been doing with this time. If you would have watched 1,000 hours of Netflix then getting an MBA seems like a pretty good decision!
On the other hand if you were doing something else to further your goals or better your life then thinking through opportunity cost seems like a helpful exercise.
When I was thinking this through for myself I really focused on why I was getting an MBA. The bottom line is that I saw an MBA as a stepping stool towards owning or starting my own business. So the obvious question:
Could I have just started my own business? Of course I could!
However, I didn't think the success rate of a twenty something starting business was very good. I thought getting an MBA was a long, strategic play to setting myself up for starting a great, lasting business down the road.
This is an important thought experiment for you to go through. What else would you do with that time and money?
Is it possible you'd look back on the ~2 years you'd spend getting your MBA and realize you haven't accomplished a lot? Would you start a business, travel overseas or start a non profit?
Knowing the answers to these questions will really help you decide if the opportunity cost of an MBA is worth it.
The benefits of an MBA
When I decided I was going to get my MBA it was really a long play. I knew it would signal the right things and hopefully get my current engineering career to start trending more towards the business side.
Oftentimes people want it to pay off much faster (rightfully so considering the costs we just saw). One thing to keep in mind is that there are numerous ways in which you gain when earning an MBA outside of just the dollars and cents. Lets dive into each of them.
Compensation
This is the first one everyone thinks about and, in most situations, probably the most important one. If you are going to invest all that time and money it only makes sense that it pays off in material ways.
Below is a chart illustrating the median income levels of engineers with a variety of education levels from the American Society of Mechanical Engineers. While an engineer with only an MBA isn't the highest it is only beat out by those with doctorates or additional degrees.
An important point to keep in mind when it comes to compensation is that its ok if you don't get an immediate jump in pay. Some view MBAs as an entry ticket into senior leadership and those opportunities may not present themselves for several years out.
Network
The network you'll gain from your MBA program may be the most qualitative and underappreciated benefit to obtaining an MBA. While you are getting your degree you will be surrounded by like minded, successful individuals that are working to better themselves.
Not only will you be working side-by-side but you'll be working with them and getting to know them better. Some
When you finish your MBA you will undoubtedly keep in touch with these individuals. Its highly likely some will have a crazy amount of success in their respective industries.
Because I got an online MBA this is not something I benefited from. I knew that going in so sought to obtain benefits in other areas. However, for most MBA graduates your network is a brightspot many don't take into account.

Knowledge
Who thought you'd go to school for 2 years and now learn anything? You will of course get schooled in a variety of areas some of which will be more useful depending on your situation.
One thing that people seem to think is that the knowledge you gain at a top tier school is drastically different than at a local program. While I'm sure there is a difference I doubt its as large as one may presume.
The knowledge will probably be generally the same. The top tier schools are worth their cost to some due to the prestige and network you gain by attending their.
Personal Growth
I remember when I got my MBA there were late nights and early mornings. Getting my degree while working a full time job, being a new father and keeping up with life was a challenge. Sometimes I felt like this.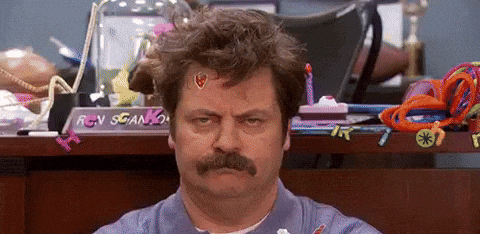 One benefit that I didn't anticipate was my personal growth just from facing and conquering adversity. Its all about what you want your life to turn in to and how hard you chase it.
A lot of people take on tasks that will push them. However, unless there is a firm due date and money on the line they are able to push it off and procrastinate. Let me tell you, I wasn't procrastinating a huge paper when I am paying thousands to take the class!
is an MBA worth it?
Because I'm an engineer I always want to look at the numbers. I've mentioned before that this decision is a combination of quantitative and qualitative variables, I believe its always valuable to look at each piece.
There are a million ways someone could model up the numbers for a decision like this. Some people would go in and try and get everything down to the cent. They'd take into account that 5% student loan interest, the cost of books, etc. If the decision hinges on me getting a 4% student loan interest rate versus a 5% rate then maybe I'm cutting it too close!
That's not really how I operate anyway. I want to look at round numbers in hopes that the quantitative side points me in a direction. In an easy decision (if there ever was one!) the qualitative side would point in the same direction and then the decision would be made.
For me I wanted to see a plot of what my salary likely is going to be versus what it could be. I put together the plot below that really just takes into account the following:
What my current salary and anticipated annual raise would be
A hopeful promotion and anticipated annual percentage raise would be after receiving an MBA
The cost of obtaining the MBA itself split over 10 years
All of that is guesswork but, again, I don't expect an exact answer.
Modeling my situation
Below is a plot of my situation. Its been a few years so I can't quite remember all the details. As I've mentioned before I took a long view on my MBA. Even if I didn't get a new role or some high flying promotion right away I'd still consider it worth it.
The single biggest point of differentiation in my situation to most is how little I had to pay out of pocket for my MBA. While I work for a small company I know there several companies that exist that would require virtually nothing out of pocket for a $30,000 MBA.
If you have that option and you aren't taking advantage of it you are NUTS! Anyways, here is my plot.
If you're interested in making a similar plot and illustrating your situation a bit more head to this link. It will allow you to sign up for my email list and I'll send you the google sheet that made this plot for me. I hope its useful.
Wrapping it all up
We've walked through a ton of variables and ways to think about this huge decision. While I'm sure you'll continue to ask "is an MBA worth it?" I hope you go into the final decision with a bit more confidence.
This is a really personal decision and one that each must make
Don't forget to get my free google sheet calculator!
Let me know what you think! Find me on twitter @eatmoneyblog!