I've been tracking my spending for years now and I continue to ask myself the same question: "how much should I be spending a month?".
Its strange because, even though I know my net worth is headed in the right direction I continually ask this question because I don't know how much others are spending.
What if there was a chance to save more? To grow my net worth faster?
To be honest, it makes me feel a bit like this…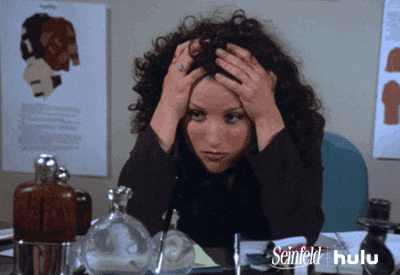 Its such a frustrating cycle and one that I constantly find myself on. The thing is, I hate how PERSONAL personal finance can be. I really feel that if we know how much either was spending then we'd all be able to spend less.
This post is my best deep dive into this topic. I've researched it, gathered my own data & even shared 7+ years of MY OWN SPENDING DATA. Frankly, I'd share more if I had it.
I hope this finally answers how much you should be spending a month because it certainly helped me out.
If this information just isn't enough to help you out in this area check out the bottom section on where to find more help or jump straight to a service I'm offering, specifically tailored to help you spend less.
What about the average American
The average American lives a pretty good life. I think in many respects I just want to be average when it comes to spending. If I can work hard and keep growing my income then being an average spender is ok with me.
The graph below started out as annual data from statista. I just took it and made it into monthly data because we are after monthly spending data here.
When I sit down and think about those numbers $5,253 doesn't seem like too bad of a number until I think about all the people that live in cities like LA, New York or Chicago. I'd like to think that I live somewhere in the middle (both literally and financially) being that I'm from the midwest.
Fresh Monthly Spending Data
Now that we know how much the "average" American spends I want to take it one step further. I put out a twitter poll asking my 4,000+ followers what their monthly spending looked like. I got 63 more pieces of data.
With some rough guesses I think the average spending from my poll lies around $5,000. This is a good 10% lower than the national average. After some thought, I think this makes sense. My followers primarily fall in the "personal finance nerd" bucket. It's not too surprising that the spending of my followers is less than the average.
However, this does point to the fact that a good target monthly spend number is right around that $5,500 number (unless you're a personal finance nerd!).
7 Years of Monthly Spending Data
While I've tracked my spending since graduating college in 2011, I didn't start keeping the data in an organized way until 2014. I am glad I did because it's great to see how things have and haven't changed over time.
I'm writing this in 2021 and things have changed quite a bit since this data started in 2014. I've moved twice, had between 1 and 2 dogs and added 2 little ones to the world. To say that my household spending needs have changed through the years is an understatement.
Spending Data by month
The graph below shows my spending data each month for 88 months in a row. Thats a serious amount of data!
As you can see the data fluctuates quite a bit. One thing that I'm sure has happened is that my definition of "monthly" spending data has changed. For instance, I'm not sure I've ever counted medical bills or significant home projects in here.
Overall it seems fairly steady. There is definitely some fluctuation but its not too wild. Tracking expenses for 7+ years tends to get you pretty tuned into your finances.
Average Monthly Expenses by year
Here is the data that I'm most interested in looking at. Rather than look at all the wild data above I just want to see the average for each year.
These numbers really make all the hard work I put into tracking our spending worth it. To know that my family's spending hasn't increased since 2017 is fantastic. While other people plan on 3% growth due to inflation, I've been able to be much lower than that.
Spending Areas to consider
While a whole lot of things make up my monthly spending, there are four areas that I believe drive either most of the cost or most of the variability from month to month. The types of questions I ask myself are:
How much do children cost?
What's the cost of owning a dog?
How much do houses cost?
How much do groceries cost?
Those are all answers to dig into further. I've found those are either big drivers in my spending or create a lot of variability from month to month.
Monthly Spending Questions or common topics that come up
How much is ok to spend?
This is a very personal question to answer. However, I think there are a few things that should be considered here. The first is how much your monthly income is. If you know that, this should be the absolute maximum for what you spend. I'd consider that a starting point because you don't want to make a habit of spending exactly what you make. Over time, this will feel like you are running really hard at work to make more money but, in all reality, you're on a treadmill not going anywhere financially.
The other thing to consider are your financial goals. This is too deep to dive into here, however, I'd recommend starting with the end in mind. Think about where you want to end up. Those values will give you an amount you need to save each month. If this is a question you're asking yourself you may want to check out different types of budgets.
Spending without a plan
In my experience (both myself and looking at others spending), spending without a plan is not a good idea. Keep in mind, this doesn't need to be some detailed plan. It can be some overarching things to keep in mind.
I helped a family member out with their finances and boiled down their entire "plan" to two categories. It isn't hard to track and it has helped her finances immensely.
Spending too much money
Spending too much money is a problem A LOT of people have. Some are aware they are spending too much and others have no idea. If this is you I would highly recommend the mindset of focus on the process not the outcome. Don't look at the end number.
Something else to consider if you find yourself asking this question is which payment type can help you stick to a budget?
Where to look for more help
I hope this post has helped answer some questions in your mind because it has certainly helped me. Between finding what the average American spends to what my twitter followers shared, I feel like I have a pretty concrete answer for this question.
If you find yourself needing more help check out my latest product offering. Its a 1 on 1 service to help you spend less. I've seen it work and truly believe it can help you out too.